As the cost of attending college continues to rise year after year, students are taking on record levels of student loan debt. One of the best ways to help reduce the student loans you need to take out is through winning scholarships. When you think of which scholarships to apply to, usually national scholarships come to mind. But don't overlook the local scholarships out there.
Why Should You Apply for Local Scholarships?
You may be surprised to learn that local scholarships are similar monetarily in award amounts to many national scholarships. And there are various other reasons why you should focus on local scholarships.

Fewer Applicants, Better Odds
There are naturally more applicants with national scholarships, making your chance of winning that much less likely. There are fewer applicants at the local level, which improves the chances of you receiving a scholarship. Some local scholarships are not getting enough applicants even after reaching out to schools to get more students to apply and are almost often times searching for applicants to apply.
Networking Opportunities That Open Doors
You can get your name out there within the local community and boost your reputation, which can open doors to additional opportunities. Award ceremonies, newspaper articles, and features on chapter websites can increase your exposure and expand your networking channels. Students that win scholarships within their communities may be offered other scholarships, internships, or job opportunities.
From Local to National
Some scholarships provide you the ability to win money at the local level and then go on to compete at the district, state, or national levels for additional award money. While this is not always the case, if you win a scholarship that provides the opportunity to move on to a higher level and continue to win, you unlock the potential to make a bigger impact on funding your education. The VFW scholarship winners we feature below are an example of where this progression is possible.
Local scholarships should be part of your overall application strategy. Applying for both local and national scholarships of varying award amounts can help chip away at the tuition costs and reduce your total student loan debt. If you apply for ten $500 scholarships, it won't pay for your entire education at a four-year university, which is why finding scholarships of varying amounts is key.
Where to Find Local Scholarships
Unsure where to begin? Knowing where to look and finding groups that provide local scholarships is the first step.
Some organizations where you can apply for scholarships include banks and community-based non-profits such as churches.

To find more details on what opportunities exist in your area, you can go through your guidance counselor, by word of mouth, search online, or check out scholarship databases. Some of these methods may be time-consuming and challenging to find scholarships that are the best fit for you.


At Free Money Meister, we have scholarship coaches to guide you through this process with our Premium Plan. To get started, book a free 15-minute consultation here.
You Could Be Next
The scholarship coaches at Free Money Meister have helped many talented students find, apply for, and win local scholarships.
We would like to congratulate some of our recent Veterans of Foreign Wars (VFW) scholarship winners: Kaira Thomas, Kennedi Jones, Rejoice Damoah, and Chloe Jones.
Kaira Thomas was featured in an Avenue News (avenuenews.com) article for reading her award winning essay at the VFW Post 2621 award ceremony.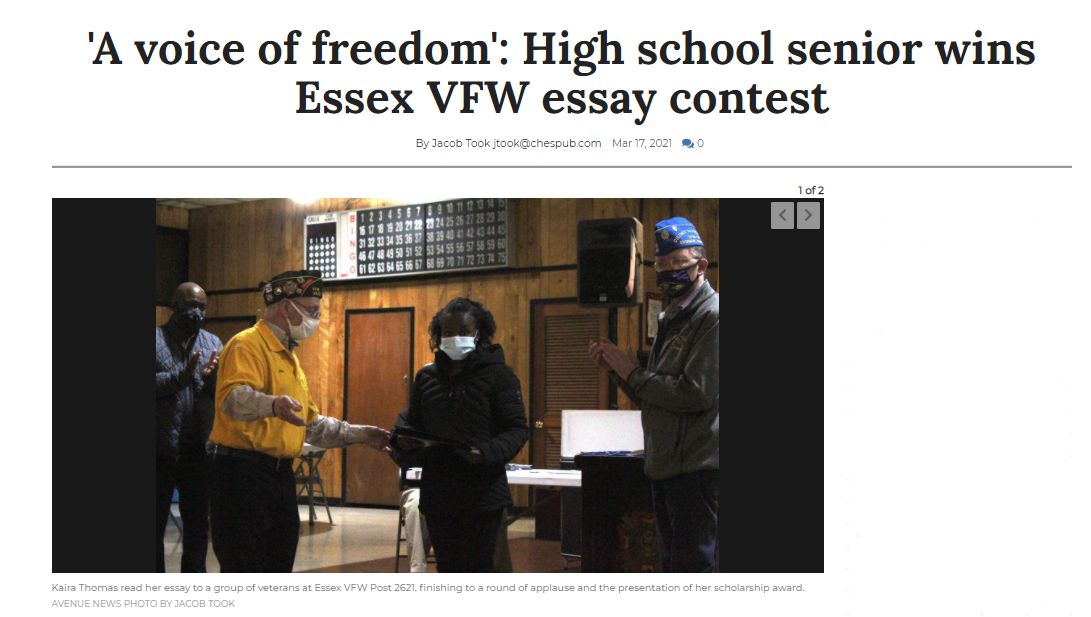 Kennedi Jones, one of the winners from VWF Post 9376, said, "I greatly enjoyed my time at the award ceremony. It was an honor to have been chosen as the winner for Post 9376. I am looking forward to doing this again next year."


Another VFW scholarship winner, Rejoice Damoah, expressed her appreciation by stating, "It was such a privilege to win the Patriot's Pen Scholarship. Thank you for giving me the chance to showcase my talent in writing."


If you would like assistance with the scholarship process from start to finish, sign up for our premium service offering. At Free Money Meister, we have helped students like you win scholarships to finance their educations.


If you are a scholarship committee looking to find more applicants, please contact us at admi
[email protected]
to discuss your scholarship application.
Subscribe to our newsletter now!
Get weekly updates on our latest courses, blogs, free money news and more right in your mailbox.
Thank you for purchasing from . Your course has been added to your account.


For more details about your course and billing you can log into your portal
here
. Below are some additional details about your new plan:
Billing: , has been billed and made the default for this plan. There can only be one person for billing, but that designee can be changed at any time by clicking
here
. If at any time you wish to terminate your plan the billing cycle will terminate immediately.
Invoicing: You will receive invoices via the email provided during payment.
Payment: You can always update your payment information by clicking
here
or logging into your account and choosing your settings. Changes made to your account will take effect at the beginning of the next billing cycle.
Continuous Service Offer terms: By purchasing this course you agree to our subscriber terms which can be found here. Your subscription will renew automatically each month by charging the payment method on file. You may cancel your plan at any time by clicking here or contacting customer service at ________
Questions?
Contact customer service at _________________
Everyone loves something free, but there is more to see and learn
Free Plan
Dashboard access

Scholarship Tracker

Recommendation Letter Tool


Scholarship Application tool

No courses included
Basic Plan
Dashboard access

Scholarship Tracker

Recommendation Letter Tool

Scholarship Application tool

Scholarships = FREE MONEY course